Marina Lacasaña Navarro. Director. marina.lacasana.easp@juntadeandalucia.es
Clara Bermúdez-Tamayo. Technical Director. clara.bermudez.easp@juntadeandalucia.es
Leticia García Mochón. Knowledge Transfer. leticia.garcia.easp@juntadeandalucia.es
 Amor Escoz Roldán. Environmental Education and Outreach
Begoña Martinez Vázquez. Translation and scientific communication
Loli Pardo. Administrative support and web content editing.
Ainhoa Ruiz Azarola. Health Promotion.
Olga Leralta Piñan. Family and School-Based Health Promotion.
Beatriz González Alzaga. Communication and Promotion in Environmental Health.

Pablo Martínez Cabrero. Information Systems.
Luz Molina Sánchez. Information Systems.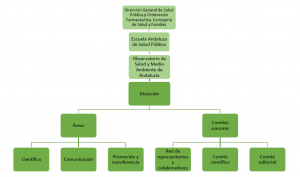 A scientific committee, an editorial board and a wide network of representatives and collaborators support the development of activities from OSMAN.